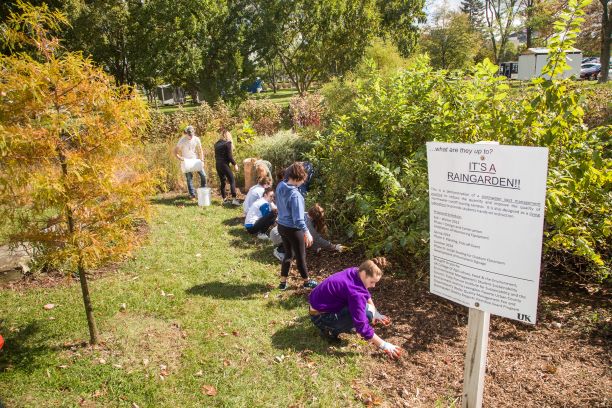 Hosts: Carmen Agouridis, Ph.D., P.E., M.P.P., Extension Associate Professor, Biosystems and Agricultural Engineering Department, University of Kentucky and Amanda Gumbert, Ph.D., Extension Specialist for Water Quality, University of Kentucky College of Agriculture, Food and Environment
Guest: Suzette Walling, Agricultural Extension Associate, Plant and Soil Sciences, University of Kentucky and Benjamin, Lily and Ms. Cummins of Redwood Cooperative School
Episode 20: Winning with Rain Gardens

In this episode, Amanda joins Suzette Walling at the Cat's Catchment along Farm Road on UK's campus to learn about rain gardens and the many benefits they provide beyond stormwater quality. You'll also get to meet Benjamin and Lily, two 5th grade students, who were part of a leadership team that designed and helped build a rain garden for Redwood Cooperative School and are now teaching other students about rain gardens.
Episode Transcript: Click here to access the episode transcript which includes links.
Explore More: Want to learn more about rain gardens and environmental education?
Extension publications
Videos
Websites